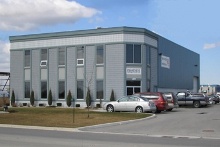 Prominent Fixture & Gauge Ltd., operating in Oldcastle, Ontario provides reliable services to the automotive stamping, plastics and machining markets with more than 20 years of experience in the design, production and certification of check fixtures and gauges.

We employ state-of-the-art design, build and certification capabilities using the latest in CAD/CAM software, machine centers and inspection equipment.

We work closely with our clients on concept development, design, cost analysis, production and implementation drawing upon our experience, skill and ingenuity to complete simple or complex projects successfully.

We are extremely proud of our reputation for delivering high quality, cost-effective products on time. And since time is money, our clients have come to rely upon us for innovative, proactive and time-sensitive maintenance programs that complement their critical production requirements.

We were pleased to be selected as Mitchell Plastics' provider of 34 gauges for the first Lexus to be built outside Toyota Town in Japan. Lexus engineers placed extremely critical importance on the "fit and function" of their components and our gauges provided that standard. Mitchell Plastics received the Lexus "Launch Award" in 2004.

Our ISO 9001 certification is testimony to our belief in universal standards and the value they provide to our industry. Our implementation of these standardized quality management systems provides confirmation to businesses on a global level that the highest standards of quality are being met on a continuing basis.